[widget id="vsmeetlistwidget-2″]
[widget id="meetup_event_list-3″]
Held by Asian Pacific Islander Queer Women and Transgender Community on 12 June 2020 7:00 PM
The 16th annual Queer Women of Color Film Festival, June 12-14, is just 3 weeks away!
Register now for your FREE tickets.
//qwocmap.z...Read More
---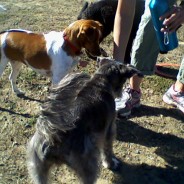 It's BAAACCK !!   Because they were so CUTE last year… Calling all Pets of APIQWTC! Are you a cat, dog, bird, bunny, or other cutie patootie, feeling left out of the Banquet (even if you're a Sheep/Goat)? Here's your chance to make a splash at the event anyway! — and support APIQWTC's annual fundraiser too, which benefits APIQWTC scholarships, ongoing activities, and our 2015 beneficiary, QueeRoc. Be featured on the APIQWTC Pets Pages in the Banquet Program! You will gain a measure of fame and a lot of "awww"'s! There will be 3-4 pets featured per Pets Page in the program. Cost is $25 donation, tax-deductible. Just tell your human to do the following to be received by April  11 (printing deadline): #1   Email a PHOTO (closeup is best) of your pet, along with the following info: Your name:_______________________ Email: _______________________ Phone# (for any questions)_____________ Pet's name:  Hi, I'm ________________ Pet's family:  I live with _______________ Pet's favorite food/toys/things:  I love _______________ (max. 20 words). Pet's quote:  "_____________________!"  (max. 20 words) (the last 4 lines above will appear in the program under your pet's photo) Email both photo and the above info to:  *protected email* —  or mail both along with your check, to the address provided below. #2   Send a check for your $25 donation to "API Banquet" and note on the check "PET PAGE" Checks must be RECEIVED (not postmarked, received) by April 11 in order for us to confirm placement in the Pets Pages of the event program.  This is the printing deadline, no exceptions. You will get a confirmation email once we have received both your pet's photo/info and your check.  You will be sent a tax-deductible acknowledgment letter after the event from our 501(c) nonprofit sponsor, A&PI Wellness Center. That's it!   Thank you for your support! Questions, email *protected...
read more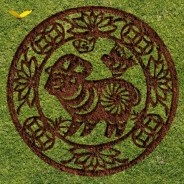 APIQWTC would like to invite you to celebrate the lunar new year at our 28th Anniversary Spring Banquet. Come see old friends and make new ones. The food and performances are going to be fabulous!!!
read more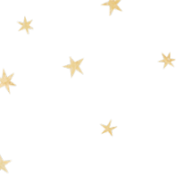 Are you a performer? Can you belt out a tune? Dance your heart out? Do you love delivering fun and positive experiences to an audience? The Asian Pacific Islander Queer Women and Transgender Community is looking for talent of all shapes and sizes to perform at our annual Spring banquet.
read more
To encourage use of public transportation and lessen use of fossil fuel, APIQWTC is offering free rides from Civic Center BART to House of Banquet on Clement St. Pick up times from Civic Center BART will be arranged individually in the hopes of having a full car. If you need a ride to HOB, please contact Caresse at: *protected email* 415-640-9652 Please let me know by 3pm Saturdayif you need a ride to the banquet. If you need a last minute ride, please text. Please let me know what time you would like to be picked up from BART and how many people.  No need to coordinate rides from the banquet back to BART. That can be arranged at event. I can also assist with the arrangement  of rides from HOB to after party.  Please also make note of BART times and when the last train leaves. Unfortunately, we are not able to offer ADA accommodation being that we will be using personal cars.  Apologies for any...
read more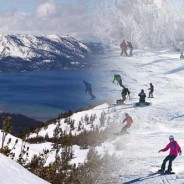 *APIQWTC's Annual South Lake Tahoe Trip!* Saturday 1/17/15 – Monday 1/19/15 (two nights over the Martin Luther King Jr. holiday weekend) Richardson House Camp Richardson,  South Lake Tahoe Love Tahoe long-time? First-timer?  Either way, find your magical winterland fun with us — whether it's skiing, boarding, photo-taking, snowshoeing, snowperson-building, or "cabineering" (cozy-cabin-relaxing, cooking, eating, games-playing) ! Don't miss out on this special weekend! There is room for 20 people at our reserved mega-cabin, the marvelous Richardson House at historic Camp Richardson.  We expect these spaces to fill quickly.   RSVP with deposit must be received by November 10, 2014. Should your plans change after you send us your deposit, the final date for refund of deposit is November 25, 2013. The cabin has 7 bedrooms, 4 bathrooms, with full kitchen, Wi-fi. See website for cabin details and amenities: //www.camprichardson.com/lodging-a-camping/richardson-house Cost:  $99 total per person for both nights, plus shared food cost. (Cost per person is the two-night amount, even if you are only coming for one night we can only accept folks who can pay for both nights.) We need one person to volunteer to be lead kitchen manager. The kitchen manager is responsible for planning 4 meals (2 breakfasts and 2 dinners) for 20 people and doing some pre-trip grocery shopping. The kitchen manager's trip is paid for by APIQWTC.  If you're interested in learning more about the kitchen managing for this trip, contact *protected email* Everyone in attendance will help with cooking and cleaning by being placed on rotating cooking teams. The lead kitchen manager will get the trip for free in exchange for volunteering. Please indicate in your email your background in preparing meal plans for large groups if you are interested. How to reserve your spot(s):    * Email *protected email* for the deposit mailing address * Liability Waiver form must be sent in with check. (click on below, PDF or Word)  Please email us if you cannot open it and need it resent to you by email. If you are bringing a minor under the age of 18 please sign and print one for each minor under your care. * **All deposits must be received by 11/10/14  (not postmarked, but received)     Tahoe 2015 Waiver (Word)      Tahoe 2015 Waiver (PDF) ** First come, first served — the first 20 checks received are confirmed.   Once spaces are filled, we will announce this on the list-serve and return any later-received deposits to the senders. Cancellation policy for this event:   If you cancel your spot after 11/25/2014, we will be unable to refund deposit unless we find another person to replace you, which we cannot guarantee.  Email *protected email* for additional questions. If the trip gets canceled by the event organizer, you will be refunded your deposit. We will know by 11/25/2014 whether trip will be cancelled. Misc. FAQ:   – Kids welcome.  Kids pay full cost (same as adults) as we have a max-occupancy limit which we cannot exceed. – If you need a rideshare let us know, we'll do our best to help (but cannot guarantee a ride). – This is a drug-free event. – Pets not allowed in the cabin. – The cabin has limited ADA accessibility. If you would like to know more please email *protected email* for specifics. Please indicate if you...
read more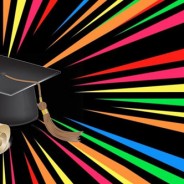 APIQWTC SCHOLARSHIP DEADLINE: February 12, 2015 AWARD OVERVIEW APIQWTC (Asian Pacific Islander Queer Women and Transgender Community) is an organization in the San Francisco Bay Area providing support and community for nearly 800 queer Asian and Pacific Islander individuals. The APIQWTC scholarship supports queer API women and transgender people in their pursuit of technical/professional training or higher education. The scholarship hopes to recognize those who are active in the community and encourage future leaders.  APIQWTC will be awarding scholarships of $1000 to two Asian/Pacific Islander lesbian, bisexual, or queer women or transgender individuals pursuing technical/professional training or an undergraduate/graduate degree. AWARD CRITERIA Current students in a certificate or degree-granting program as well as high school seniors and other future students about to matriculate into certificate or degree-granting program in summer 2015 or fall 2015 are eligible to apply. Applicants should demonstrate academic commitment as well as community involvement. APPLICANT REQUIREMENTS Please submit: ·         A cover letter ·         A resume or c.v. ·         A two-page double-spaced personal statement. The personal statement should address community involvement and future goals. How has your cultural heritage, sexual orientation, and/or gender identity influenced your life and any activities in which you have been involved? Discuss any relevant experiences up to the present and how you see yourself involved in the community in the future, either through your career or otherwise. ·         An official transcript ·         At least one but no more than two letters of recommendation.  Letter(s) of reference should come from an instructor, employer, academic counselor, coach, community leader, or any other individual not related to you who is familiar with your personal, academic, or leadership qualities. Please submit statements and resumes/c.v.'s electronically no later than 7pm February 12, 2015. Letters and transcripts must be postmarked by February 12, 2015 Send statement and resume/CV as electronic attachments to: *protected email* Send letter(s) and transcripts to: Junior Claros P.O. Box 31872 San Francisco, CA 94131 Feel free to direct any questions to Junior Claros at the above email. The selection committee reserves the right to not award the scholarships if an appropriate applicant can not be...
read more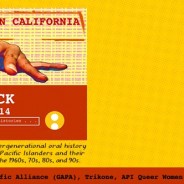 Wikipedia is one of the most visible and widely used resources for information. We are thrilled to invite you to Dragon Fruit Project's first ever Wiki Hack! For the past year and a half…
read more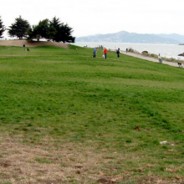 APIQWTC Doggie Play Date Saturday, October 18, 11 am – 1 pm at Point Isabel (off-leash fun!) Everyone welcome — even if you don't have a dog, come and hang out! (and do your Costco shopping afterwards 🙂 ) Feel free to bring a lunch or snacks. The Sit & Stay Cafe there also serves coffee, sandwiches, soup, etc.  Doggie treats will be provided! * MEET at MUDPUPPY'S TUB & SCRUB next to the Point Isabel Regional Shoreline parking lot. 1 Isabel Street, Richmond, CA 94530 (just past the Costco in Richmond)  If you are running late, call or text us at (510)684-0306 and we'll tell you where in the park we are. The Point Isabel Regional Shoreline is ADA-accessible (paved and dirt paths, restrooms).  Find out more info, including directions, at: //www.ebparks.org/parks/pt_isabel Note: This event will be held in a large outdoor area.  APIQWTC welcomes your participation but cannot be responsible for any loss or injury incurred by participants or their pets, nor can we provide supervision.  Please see the link above for information on Point...
read more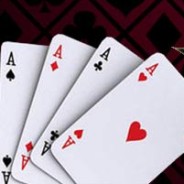 SAVE THE DATE! October 31 is … APIQWTC's Annual Halloween Hold'Em No Tricks, Just Treats!  and Games and More…. Have a happening Halloween with APIQWTC! WHEN: Friday, October 31, 6-9 pm WHERE: 17 Walter U Lum Place (on Portsmouth Square), @ API Equality Northern CA offices ADA accessible. Accessible from BART and Muni. FREE event, donations appreciated. All ages, allies and friends are welcome! We'll have mahjong, poker, board games, pumpkin carving … and prizes for costumes. Snacks and drinks provided.  We also hope to show our 2014 Banquet highlights video. … SEE YOU...
read more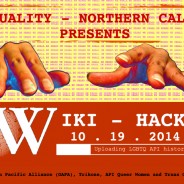 Wikipedia is one of the most visible and widely used resources for information. However, there is a sparsity of queer API histories on Wikipedia, limited both in detail and in the number of entries. Thus, we are thrilled to invite …
Source: API Equality Northern California
read more