[widget id="vsmeetlistwidget-2″]
[widget id="meetup_event_list-3″]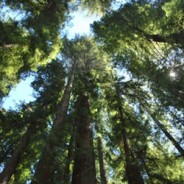 5/17-5/19/2013
Come camping with APIQWTC! Hendy Woods State Park features two virgin redwood groves- Big Hendy (80 acres, with a self-guided discovery trail) and Little Hendy (20 acres). The Navarro River runs the length of the park. Located in the middle of the Anderson Valley wine district, the 850-acre park is warmer and less foggy than redwood parks along the coast. The first 14 people…
read more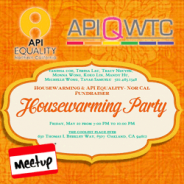 Housewarming & API Equality- Nor Cal Fundraiser
Friday, May 10 from 7:00 PM to 10:00 PM
The coolest place ever: 630 Thomas L Berkley Way, #507 Oakland, CA 94612
(2 blocks from 19th St BART in Uptown Oakland)
Help make this house a home by joining us for good drinks, good food, good people, and good times. We'll spend the evening enjoying each other's company and learning about the great work that API Equality – Northern California is doing.In lieu of a house warming gift, we are asking folks to please donate to API Equality – Northern California. This event is a fundraiser.
read more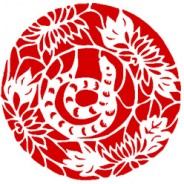 APIQWTC would like to invite you to celebrate the lunar new year at our 26th Anniversary Spring Banquet on April 20th. Come see old friends and make new ones. The food and performances are going to be fabulous!!! Location: Legendary Palace restaurant in Oakland's Chinatown. 5:00pm to 11:00pm. Make your reservation today!
read more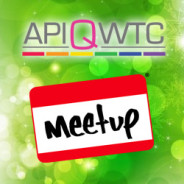 Friday, 4/12 from 6:30-8:30 in Berkeley
Fun Facts:
Meet new friends!
Eat yummy snacks and appetizers at Au Coquelet!
Hear about exciting upcoming APIQWTC events like the Spring Banquet & Hendy Woods Camping Trip
read more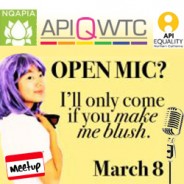 Wanna make me blush? Want other people to make you blush? Well here's your chance. APIQWTC's 2nd FRIDAYS, API EQUALITY -NC, and NQAPIA are coming together for our first open mic collaboration!!!! All audiences are welcomed. If you would like to perform, please send your NAME and PERFORMANCE piece to Betty Cao, *protected email* LOCATION: 17 Walter U Lum Place San Francisco, CA 94108  [map] (ADA ACCESSIBLE) DATE & TIME: Friday, 3/8 from 6-8pm! Free admission! —- about us —– APIQWTC seeks to build an infrastructure to bring local API queer groups together to socialize, organize, politicize, and promote pride and visibility of API queer women and transgender people in the queer API communities, here and abroad API Equality – Northern California works at the intersection of the Asian & Pacific Islander (API) and Lesbian, Gay, Bisexual, Transgender, Queer/Questioning (LGBTQ) communities to empower community members, advance civil rights policies and protections, and promote respect and understanding for cultural and community diversity. The National Queer Asian Pacific Islander Alliance is a federation of LGBTQ Asian American, South Asian, Southeast Asian and Pacific Islander organizations. NQAPIA seeks to build the capacity of local LGBT AAPI organizations, invigorate grassroots organizing, develop leadership, and challenge homophobia, racism, and anti-immigrant bias. NQAPIA is a project of the Tides Center. www.apiqwtc.org www.facebook.com/apiqwtc (708) API-QWTC *protected...
read more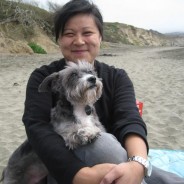 WHEN?….12-2pm Feel free to bring a lunch or snacks.  Doggie treats will be provided! WHERE?…….Point Isabel Regional Shoreline is part of East Bay Regional Park District, located just past the Costco in Richmond, that permits off-leash activity. * MEET at MUDPUPPY'S TUB & SCRUB which is next to the Point Isabel Regional Shoreline parking lot. 1 Isabel Street, Richmond, CA 94530 If you are running late call or text us and we'll tell you where in the park we've settled. The Point Isabel Regional Shoreline is ADA-accessible (paved and dirt paths, restrooms).  You can find out more information about Point Isabel, including directions, at: //www.ebparks.org/parks/pt_isabel WHO?.………We welcome all members and friends of APIQWTC who are dog owners or dog lovers.  Even if you dont own a dog, please come and hang out! (and do your Costco shopping afterwards.) WHY???…….Because the puppies of queer APIs need some exercise and social time too! If you want more info email us at *protected email*. Call or text Joyce Y. at 510-684-0306 on the day of if you can't find us. Note: This event will be held in a large outdoor area.  APIQWTC welcomes your participation but cannot be responsible for any loss or injury incurred by participants or their pets, nor can we provide supervision.  Please see the link above for information on Point...
read more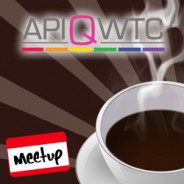 Our next Meetup is tomorrow 2/8, from 6-8 pm, at the venerable old-school Muddy Waters in San Francisco, just one block from 16th St. BART! See you there! We'll take over the back area of the cafe! If the cafe gets too full, and we have to change location at the last-minute, call Joanne for the new location at (510) 495-0996 for the newest update! Muddy Waters, 521 Valencia (betw. 16th & 17th Sts), San Francisco, 94110 Phone (415) 863-8006  **note, this is a cash-only place** ADA-accessible. Do you want to find out about upcoming APIQWTC events, learn how to get involved, or just hang out with old and new friends?  APIQWTC's monthly meet ups are held around the Bay, every second Friday of the month.  It is an opportunity to just hang out and chat with other members of our queer women and transgender API community.  We are friendly! View Larger...
read more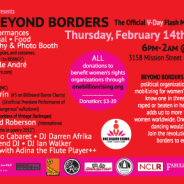 APIQWTC is co-sponsoring… RISE BEYOND BORDERS at EL RIO! Date: Thursday, February 14th, 2013 Where: El Rio 3158 Mission St. SF 94110 (415) 282-3325 When: 6pm – 2am What: Rise Beyond Borders: The Official V-Day Flash Mob After Party in San Francisco. $3-$20 suggested donation. All proceeds benefit onebillionrising.org. *protected email* for more information. URL: //www.onebillionrising.org/page/event/detail/startarising/wrq7 This V-Day, unite with One Billion Women all over the world to Strike, Dance and Rise against Gender Violence!!! RISE BEYOND BORDERS is a coalition of political organizations and activists mobilizing for women's rights. Did you know one in three women will be raped or beaten in her lifetime? That adds up to more than one billion women worldwide. One billion women dancing would be a revolution. Join the revolution! Join onebillionrising.org!!! Photography by Vashelle Andre, and a photo booth with paper, art supplies, and Vagina Costumes to wear when you tell the world: "Why I'm RISING!" MC Gina Gold of The Gina Gold Show Performances by Kaylah Marin, #3 on Billboard Dance Charts Vixen Noir's Unofficial Premiere Performance of her Debut Single, "Dangerous" w/Kailove! Isis Starr, Goddess of Vintage Burlesque Musical performance by The Voodoo Cabaret Wataya Kyd Roberson "Who is Who in Poetry" 2012 Spoken word by Magick "Activist at Large" DJ Darren Afrika, The Reverend DJ, DJ Ian Walker, DJ Willow with Adina the Flute Player and more!!! Sponsored by: El Rio, One Billion Rising SF, Code Pink, NOW SF, Global exchange, NCLRight, APIQWTC, QWOCMAP, Fabulosa, Mango, and...
read more

A PIQWTC is proud to award Christine Pan a scholarship to pursue her graduate degree in the Master of Fine Arts Program at the California College of the Arts in San Francisco. APIQWTC recognizes and supports her efforts in producing groundbreaking creative work as a visual artist, writer, activist, and cultural producer. Through her work, Christine is a visionary leader in promoting API queer women and transgender voices and visibility. She is the creator and founder of The Visibility Project, a photography and video community-based project that brings together community members, organizations, activists, and artists. Currently, Christine is developing a science-fiction project involving cyborgs, theory, video, installation, absurdity, and chips. Her work can be viewed at www.christinepan.com and www.visibilityproject.org. Congratulations Christine! A PIQWTC is proud to award Jamie Sumague a scholarship to pursue a Master's Degree in Occupational Therapy at Columbia University. Jamie has been involved immensely in Columbia University's LGBT programming and advising on campus. With a rigorous academic schedule, Jamie is able to balance demanding academic expectations with LGBT programming efforts towards queer API advocacy. Jamie's efforts are to develop and nurture a culture of acceptance on and off campus. Programming efforts have included mentorship programs, discussion series, and mixers to aid in suicide prevention, combating institutionalized homophobia, increased mental health for the campus community. Congratulations Jamie on your activism! Please DONATE to the Scholarship Fund today....
read more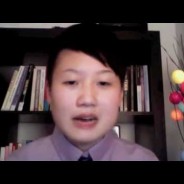 Wen Liu and Estelle Davis have won this year's APIQWTC scholarships. Congratulations to both for their impressive accomplishments! Wen  Liu is a queer Taiwanese community organizer and graduate student in  the Social-Personality Psychology Ph.D. Program at the City University  of New York, Graduate Center. As an undergraduate at University of  Washington, Wen co-founded  the Queer People of Color Alliance, Youth for Middle East, and Chinese  Speaking Queers. Wen additionally worked as a programming coordinator at  Q Center, the LGBT resource center, advocating particularly for queer  students of color.  Wen has also organized East African, Latino,  and Asian immigrant custodial staff by forming a multi-generational  labor solidarity group called International Workers and Students for  Justice to combat lay offs and workplace harassment. This summer Wen  will conduct qualitative research on lesbian and bisexual Southeast  Asian migrant workers in Taiwan to underscore how they have formed  community and comradeship in their fight against capitalist  exploitation. Thank you video from Wen. Sarah Estelle Davis is a second-generation queer Filipina American who  will begin the Master's in Public Health at San Francisco State  University in fall 2011. She hopes to improve accessibility by training  health care professionals in cultural competency. Estelle plans to  develop frameworks that are particularly inclusive of LGBT, trauma  survivors, and Asian American communities. She has worked eight years as a  public health worker at organizations such as Center for Health  Training, Fenway Community Health Center, and Marin AIDS Project. She is  currently a legal worker at Communities United for Restorative Justice,  an organization that combats the criminalization of young men of color  and the displacement of low-income communities. As an undergraduate at  Tufts University, Estelle examined the medicalization of polycystic  ovary syndrome, the most common reproductive disorder in reproductive  aged women. Estelle will be at the banquet to thank APIQWTC in person. Please DONATE to the Scholarship Fund today....
read more