Happy Lunar New Year of the Pig!
Celebrate with us at the APIQWTC 32nd Annual Banquet
Mug Design Artwork by Jenny Eng
Saturday, April 20, 2019
UPDATE: EVENT IS SOLD OUT – Email to be added to the waiting list.
Event offerings:
Buffet Dinner
Silent Auction
Live Community Performances
Announcement of Student Scholarships
Recognition of Banquet Beneficiary
Presentation of the Phoenix Award
Raffle Prize Drawings
Speed Dating & Friending
Off-Site After Party (21+)
APIQWTC is an all-volunteer grassroots group. This event is our yearly fundraiser and proceeds directly support next year's student scholarships, community organizations, and events!
This event is: ADA accessible ♿, scent-free*, vegan & gluten-free friendly.
When & Where
The APIQWTC Year of the Pig Lunar New Year Banquet will be on:
Date: 4/20/2019
Time: 5pm to 11pm
Location: Ed Roberts Campus, 3075 Adeline St, Berkeley, CA 94703
---
2019 APIQWTC Banquet Carpool
Please fill out the carpool survey? //forms.gle/f1VCRDzmkfARGJkB7
Enter your info by Thursday 4/18 at 5PM and we'll send you an email that night either with contact info for your carpool(s) or stating you didn't have a match.
This form is for receiving and offering car rides:
to banquet
from banquet (no after party)
from Banquet to the after party at White Horse Bar*
from the after party
*We should have a car making trips to White Horse Bar every 10 minutes between 10:00 and 10:30, however indicate your interest regardless.
Phoenix Award Honoree
Phoenix Award Honoree
2019 HONOREE – Amy Sueyoshi
Congratulations to Amy Sueyoshi, Our 2019 Phoenix Award Honoree!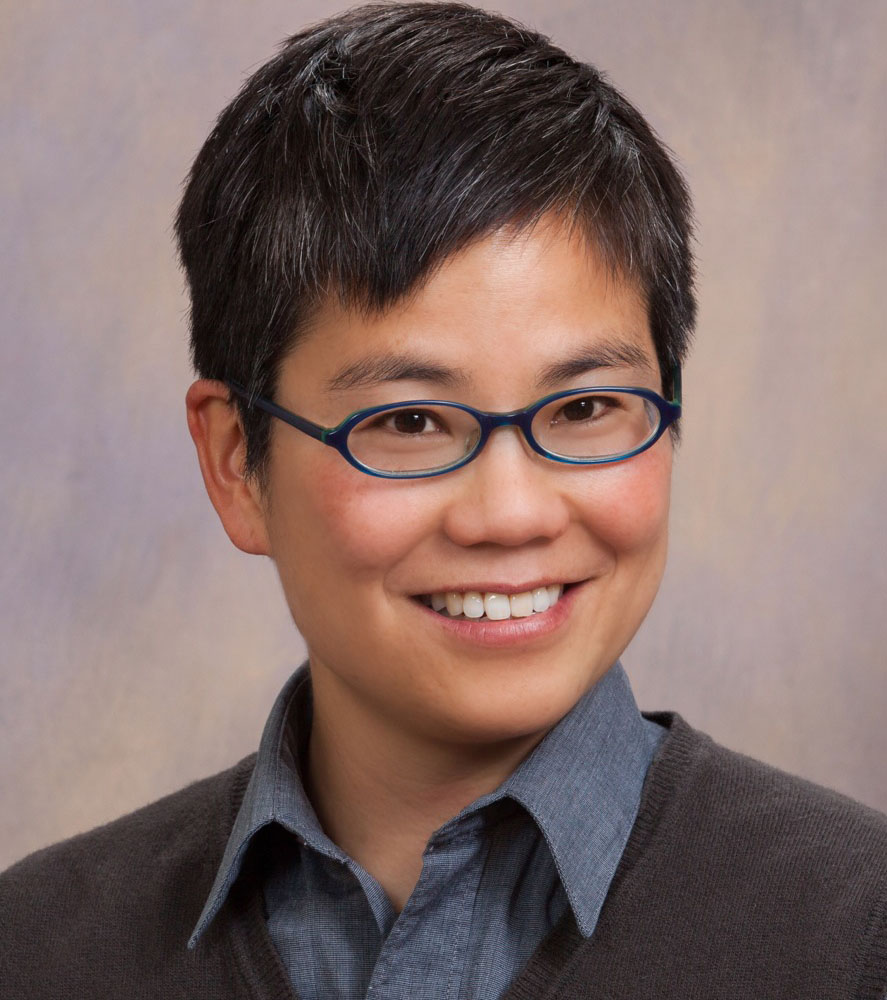 In 2002, Amy Sueyoshi moved back to San Francisco for their first full time job and immediately jumped into the API dyke community as a newbie just coming out. They had already attended camping trips with O-musubi, initiated a newsletter for the small but friendly group, and began actively volunteering on the APIQWTC banquet. They began by soliciting donations for the newly formed silent auction chaired by Pam Lowe and tripled its size over the following years. The growth enabled APIQWTC to accrue enough savings to start an annual scholarship program in 2008, which Amy volunteered to implement. They coordinated the scholarship for 6 years before passing its chair-ship on to Junior Claros. Amy has additionally initiated an APIQWTC oral history and archiving project which later seeded APIENC's Dragon Fruit Project. They continue to assist on the Phoenix Committee honoring elders and activists in the community at the APIQWTC banquet. Amy is also a founding co-curator of the GLBT History Museum, the first queer history museum in the United States where they continue to volunteer. Since 2010 Amy has curated five exhibits on queers of color, two of which exclusively covered Asians and Pacific Islanders.
As a historian, Amy has authored two monographs on API queer history at the turn of the 19th century. Queer Compulsions: Race, Nation, and Sexuality in the Affairs of Yone Noguchi (2012) traces the same-sex and interracial intimacies of Japanese immigrant Yone Noguchi, better known as the father of Asian American sculptor Isamu Noguchi. Amy's second book Discriminating Sex (2018) argues that growing gender and sexual freedom for whites in the 1890s in fact restricted Chinese and Japanese gender and sexuality into "Oriental" types that initially discriminated differences between the two ethnicities and later discriminated against Asians collectively. Her most recent essay, "Breathing Fire: Remembering Asian Pacific Islander Activism in Queer History," appeared as part of the National Parks Service historic LGBTQ Theme Study which recently won the Paul Buchanan Award by the Vernacular Architecture Forum. On radio shows, podcasts, and campuses across the nation, Amy publicly speaks on the value of queer API history and how it can radically change people's lives.
Amy has a Ph.D. in history from University of California, Los Angeles and a B.A. in history from Barnard College of Columbia University. They are a faculty member with a joint appointment in Race and Resistance Studies and Sexuality Studies at San Francisco State University. Amy is currently serving as the Interim Dean of the College of Ethnic Studies.
---
APIQWTC Phoenix Award
The Phoenix Award honors API queer women and transgender individuals who have made outstanding contributions of historical significance to the Asian Pacific Islander queer women and transgender community. The Phoenix symbolizes virtue, grace, integrity, and peace. The mythical bird additionally signifies divine beauty in its symbolic incorporation of opposing forces – yin and yang, male and female, conflict and happiness – to create harmony and balance. Awardees embody the qualities of the Phoenix, in their power and commitment to inspire faith and incite action towards justice.
Community Beneficiary
Community Beneficiary
Congratulations to Asian Prisoner Support Committee, Our 2019 Banquet Beneficiary!
APSC – //www.asianprisonersupport.com/
The mission of the Asian Prisoner Support Committee is to provide direct support to Asian and Pacific Islander (API) prisoners and to raise awareness about the growing number of APIs being imprisoned, detained, and deported. Since 2002, APSC has led programs in prisons, organized anti-deportation campaigns, provided resources to "lifers," and developed culturally relevant reentry programs. APSC grew out of the campaign to support the "San Quentin 3"—Eddy Zheng, Viet Mike Ngo, and Rico Riemedio. The San Quentin 3 advocated for Ethnic Studies at San Quentin and in retaliation by the prison administration—were sent to solitary confinement and transferred to different prisons. After spending months in solitary confinement (up to 11 months), Eddy, Mike, and Rico were released and eventually, all received parole (Eddy 2005, Rico 2007, Mike 2011). 80% of APSC staff are formerly incarcerated.
Scholarship Awardees
APIQWTC Scholarship Awardees
Congratulations to our 2019 APIQWTC scholarship awardees, Paige Chung and Bo Hwang!
Paige Ho Thuy My Chung is pursuing her B.A. in Critical Ethnic Studies and English at Kalamazoo College, MI. As a recent summer organizer at API Equality – Northern California 2018, Paige worked on the Dragon Fruit Network, an intergenerational support system for Queer and Trans Asian and Pacific Islander (QTAPI) elders and youth to bond and receive a network of assistance. At APIENC, they researched qualitative data, performed literature reviews, and attended a four-day leadership training. At school, Paige continues her fight for liberation in a myriad of ways. As a writing center consultant, they encourage writers to speak in their native tongues while pushing for language diversity on campus. As an Intercultural Center-Arcus Center for Social Justice Leadership Liaison, she pushes for visibility and access to transgender and low-income resources on and off campus. Paige looks forward to expanding their soundscape at her Nature in Words Writing Fellowship at Pierce Cedar Institute as they complete their senior thesis "The Entanglements of Vietnamese-Diasporic People, The Nail Salon Industry, and Community". Paige is committed to building and fostering communal support and power for QTAPI liberation, in addition to publishing individual writings.
Bo James Hwang is a post-baccalaureate student at UCLA Extension. His career goal is to become a primary care physician and public health researcher who will improve care for marginalized communities. Although Bo resides in Los Angeles, he calls Bay Area his second home. In the summer of 2016, he advanced data collection for LGBTQ patients at Asian Health Services in Chinatown, Oakland. This past summer and fall, he conducted research at the San Francisco Department of Public Health to improve biomedical prevention methods for gay and transgender men of color who use meth. Bo is currently the Student/Young Professional Director II for Asian Pacific Islander Caucus for Public Health, a research community advisor for the first national Transgender & Gender Non-Conforming Health Research Advisory Network, and the Vice President of Southern California Lambda Medical Association. In his free time, he enjoys practicing mindfulness, reading, and working out. He wants to personally give a shout out to all the donors, scholarship committee, and volunteers who made it possible for him to further his education!
---
SPECIAL THANKS to all supporters of the Silent Auction and Raffle and other APIQWTC-sponsored events, all of which support the scholarship program.
A portion of Banquet proceeds goes to the APIQWTC Scholarship fund to support queer API women and transgender people in their pursuit of technical/professional training or higher education. The scholarship aims to recognize active community members and encourage future leaders. The scholarship fund is strictly segregated from the APIQWTC general operating fund. For more info, contact Junior Claros at .

Performers' Bios
Performers
[usquare id="6″]
Sign Up to Volunteer
Sign Up to Volunteer
Hello, Community!
Every year we depend on awesome volunteers who make our APIQWTC Lunar New Year Banquet run smoothly and successfully. As a member of the volunteer-run banquet committee, I know first hand that without volunteers this historic event would become history. This banquet continues to exist year-after-year because of the commitment of volunteers and their investment in creating space to celebrate API Queer Women and Trans people.
Luckily for you, there are so many ways to help us celebrate our beautiful community! From setting up decorations, to creating a festive atmosphere for our community, to selling raffle tickets and auction items that'll sustain the organization ?, to ensuring that our food and drink lines run smoothly.
Sign up to volunteer here → //goo.gl/forms/3ZmkKWZiuWqswsAv1
All volunteers of different access needs are warmly welcomed regardless of familiarity with APIQWTC–whether this is your 1st or 32nd banquet!
**APIQWTC is a fully volunteer-run community group with a small budget, so unfortunately volunteers must pay their own way. If you haven't bought a ticket yet, be sure to purchase one here: //apiqwtcbanquet.brownpapertickets.com/

After Party (21+ over)
Banquet After Party @ White Horse Bar
Can't make the banquet?
Come to the official after party!
White Horse Bar
6551 Telegraph Avenue, Oakland, CA
$6 Door Cover
**Mention APIQWTC at the door and get a free drink ticket!
21+ over
ADA-Accessible ♿
(Direction from the banquet to the After Party)

Safe Space Statement
Safe Space Statement
2019 APIQWTC Lunar New Year Banquet
APIQWTC is committed to providing a SAFE SPACE for community members at our Lunar New Year Banquet and to holding community members accountable for the following actions:
Harassment
Intimidation
Actual or perceived threats
Verbal or physical violence
Discrimination within our community, based on sexual orientation, gender identity, race, age, color, national origin, religion etc.
In the event that these instances occur, impacted community members are encouraged to inform trained APIQWTC committee members. These members will support and intervene by taking all reasonable actions during the banquet, including:
De-escalating the situation
Prioritizing the safety of space and impacted community members
APIQWTC is committed to supporting all parties as needed, to ensure the APIQWTC Lunar New Year Banquet as a safe space.
*See this site for description and guidelines for being scent-free:
//www.eastbaymeditation.org/accessibility/fragrancefree.html