The APIQWTC Scholarship Committee is proud to announce the 2023 Scholarship Recipients:
Carolyn Lau and Jacqueline Pham
Please join us at the first in-person banquet since 2019 to celebrate our awardees on April 15, 2023 @ 5PM in Oakland! (tickets here)
Donate: To continue our efforts to sustain the APIQWTC scholarship, please consider donating!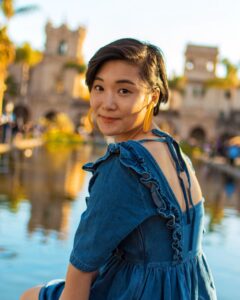 C
arolyn Lau (they/she) is a queer, fourth-generation Chinese American born and raised in Queens, New York. They will graduate in May from Columbia University with an MA in American Studies. Carolyn currently works at Wing on Wo & Co., the oldest operating store in New York's Chinatown selling porcelain and cultural goods. They also assist with operations at the W.O.W. Project, a QTPOC-led community initiative that uses art and activism to protect Chinatown's creative culture and history from gentrification and rapid displacement. They also teach introductory classes to American Studies and Ethnic Studies at Barnard and Columbia College. In the fall, they will begin their PhD program in American Studies at Brown University. Carolyn's research interests are Asian American Studies, Comparative Ethnic Studies, and urban politics. They look forward to delving deeper into these topics at Brown, and to continue supporting the W.O.W. Project.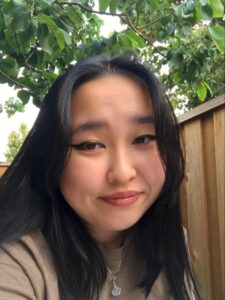 J
acqueline Pham (they/she) is a second generation nonbinary Vietnamese-American entering UCSD as a Sociology major. Discovering their passion for social justice at a rally in the 8th grade, Jacqueline has dedicated their high school career to fighting for an increasingly equitable, liberated world for all communities. Through co-founding a coalition organizing around sexual violence on campus, they have supported survivors with resources, championed inclusive, comprehensive sexual education, and spotlighted queer voices in the movement. As a member of GSA's TRUTH Council, they worked to amplify transgender youth issues by creating a reproductive justice zine and facilitating workshops for GSA Day 4 Gender Justice. Whether organizing around racial justice or sexual violence, Jacqueline has consistently worked to highlight queer perspectives — advocating for intersectionality as a means to creating truly meaningful movements. In pursuing higher education, Jacqueline hopes to attend law school and become an immigration attorney, with goals of supporting the Southeast Asian community that raised them.
APIQWTC Scholarship Awardee – Carolyn Lau
APIQWTC Scholarship Awardee – Jacqueline Pham
Please
DONATE
to the Scholarship Fund today.
https://apiqwtc.org/apiqwtc-scholarship-fund/