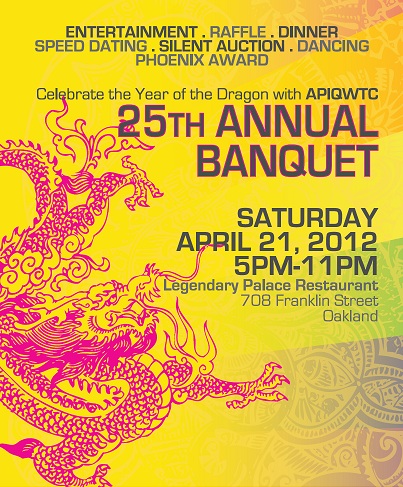 Lunar New Year Banquet is here!
It's the Year of the Dragon !!!
*** SOLD OUT !!! ***
APIQWTC would like to invite you to celebrate the lunar new year at our 25th Anniversary Spring Banquet!!! Come see old friends and make new ones. The food and performances are going to be fabulous!!!
Phoenix Award
Entertainment
Speed Dating
Silent Auction
Raffle Prize Drawings
And More!!
Phoenix Award Honoree
Song That Radio & Vuong Nguyen
Song That Radio is a grass root organization which has a dual task of operating as a radio program to focus on educating about homosexuality with an emphasis on making social changes in attitudes toward homosexuals and to organize social and other events to advocate, support and empower the Vietnamese-American LGBT community to increase visibility and inclusiveness in the community. Our goal is to improve the quality of life and eliminate the disparities in Vietnamese-American communities in dealing with homosexual issues.
During more than 12 years of operations, Song That Radio received 4 Awards:
The NQAPIA Community Catalyst Award from The National Queer Asian Pacific Islander Alliance in 2011.
Unity in Diversity Award from Santa Clara Board of Supervisor in 2007.
BAYMEC Community Service Award from BAYMEC in 2006.
LGBT Community members Award from Billy DeFrank LGBT Community Center in 2005.
Song That Radio has also been featured in San Jose Mercury News, OUTNow, LGBT Video Outlook and various Vietnamese publications, such as VietMercury, Nguoi Viet Newspaper, VietWeekly and VOANews. Since 2003, Song That Radio has received numerous grants from the Horizons Foundation. Prior to that, Song That Radio received Grants from Gill Foundation and Rainbow Grocery Cooperative.
Song That Radio airs every Sunday evening from 7:00pm – 8:00pm on KSJX -1500AM.
Performance Lineup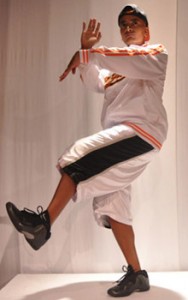 D'Lo
D'Lo is a queer Tamil Sri L.A.nkan-American, political theatre atist/writer, director, comedian and music producer.  We're honored to have him emcee our 25th! Let's give it up for D'Lo!
---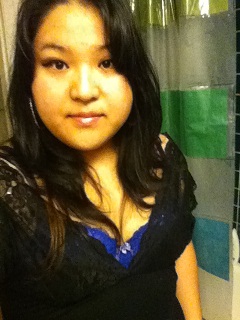 Michelle Lee
Born in Sacramento and raised in Koreatown; once upon a time, Michelle Lee tried to make it as a classical opera singer. That didn't work out.  Lamenting the sheer lack of Asian American representation within the country music scene, Michelle now spends her spare time writing country songs about the perils of dating in homosexual Los Angeles.
---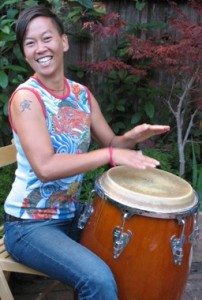 Amber Field
Amber Field is a queer Korean transracial adoptee musician, sound healer, and teacher. She was featured in San Francisco Magazine's Best of the Bay for yoga music. She specializes in world fusion music and plays tabla, esraj, Arabic tambourine, djembe, didgeridoo, and sings. Amber's short film Jagadamba, Mother of the Universe explores adoption, race, sexuality, and her healing journey through music and has screened at film festivals around the world. Amber holds Free Your Voice classes and facilitates expressive arts and mindfulness workshops on diversity issues around the world. For more information, www.amberfieldmusic.com.
---
SKIM is "short, skinny and cute." She wrote that in the 1st grade. Now, she is a singing, rapping, song-writing, Korean-drumming, media-making freedom fighter: a voice of the unheard and a force of the unseen. SKIM is now grown and sexy, still short and skinny, and still believes she is cute.
---
Born and raised in San Francisco to Pilipino immigrant parents of the "Brain Drain" generation, Tonilyn is a proud Pinay booty shaking genderqueer love warrior dedicated to inspiring systemic social change through music, theater & filmmaking. Her love of song began in the church choir in kindergarten. Since then, Toni has appeared in readings, plays, musicals and short films. His music has been featured most recently at House of Music in Oakland, Dolores Park Cafe, Bayanihan Center, Yerba Buena Center for the Arts and TransMarch SF. Toni currently works with the Queer Women of Color Media Arts Project as a Teaching Assistant and is an actor with Bindlestiff Studio, a Pilipino performing arts space and theater in San Francisco.
---
Willy Wilkinson is an award-winning writer and public health consultant who has worked extensively with health service organizations and educational institutions to develop culturally appropriate service approaches for LGBT populations, with an emphasis on transgender equality. His well-received writing has been published in a number of anthologies, periodicals, and online forums. In 2004 Willy received an excellence in writing award from the National Lesbian and Gay Journalists Association for his San Francisco Chronicle article on the social, political, and personal intersections between his parents' interracial marriage and his own same sex marriage. In the 2009 film Against a Trans Narrative, Willy stunned audiences as the spoken word performer who entertained and inspired where the dialogue left off. Willy has read and performed across the U.S., including at a number of APIQWTC banquets. For more info, visit www.willywilkinson.com.
---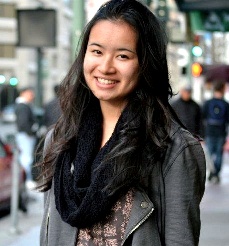 Lindsay Chan I am 15 years old and attend Oakland Technical High School as a sophomore. I have been playing the violin for 7 years and am in a youth symphony orchestra consisting of around 100 people. My hobbies/interests besides playing the violin are basketball, photography, cooking, and tech/computer stuff.
When & Where
Saturday, April 21, 2012      5:00pm to 11:00pm
| Time | Event Schedule |
| --- | --- |
| 5:00pm – 6:00pm | Registration & Socializing |
| 6:00pm – 7:00pm | Dinner is served |
| 7:00pm – 8:30pm | Entertainment & Raffle Drawing |
| 8:30pm – 9:30pm | Speed Dating / Dancing |
| | ++ Dance Floor open until 11pm ++After-party at the White Horse Lounge |
Come early – Open Seating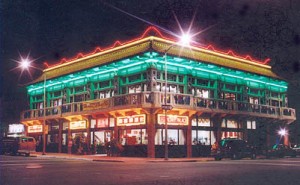 Legendary Palace Restaurant
708 Franklin Street
Oakland, CA
(510) 663-9188
Legendary Palace is wheelchair accessible.
Park on the street or in the nearby public parking garages. (2 blocks away, enter on Franklin between 9th and 11th Sts)
Easily accessible by BART – four blocks from City Center / 12th Street BART Station.
After Party
After Party: 
Club Drama

at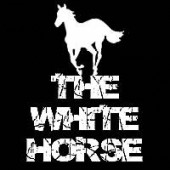 The White Horse Bar
6551 Telegraph Avenue (by 65th, near Alcatraz)
Oakland, CA 94609
(510) 652-3820
Party begins right after the banquet!
Let's take over the joint and party down!
Banquet special price: $3 before 11pm; $5 after 11pm with APIQWTC club card.
Sponsorship Levels
On-line Reservations
Make your Banquet reservation with a secure Paypal payment online!
Complete reservation form and and pay online by Monday, April 9th, for discount pricing.
Please note, there is a 4% handling fee for  PayPal processing.
Mail-In Reservations      
Mailed reservation and payment must be postmarked by
Monday, April 9th, to hold your space and ensure discount pricing. Space is limited,
reservation is guaranteed by check only. Please make check payable to "API Banquet" and
return this form with your reservation.
SPONSORSHIP — We have a few sponsorship levels.
Be a Dragon Supporter, Platinum, Gold, or Silver Sponsor!
Gold and Platinum Sponsors will be recognized for your generous support
in the banquet program under the "Thank You Sponsors" section.
Of course if you chose to be an anonymous sponsor, we would gladly honor your wish.
Category
Price
Dragon Supporter

Platinum Sponsor

Gold Sponsor

Silver Sponsor

$450 (reserved table for 10 adults)

$100 (one dinner and acknowledgement)

$75   (one dinner and acknowledgement)

$100 (two dinners)

Individuals
$38 postmarked by 4/9

$45 after 4/9

Seniors/Students
$25 (Please present ID at the door)
Children
$15 (3-13 yrs old)

FREE (younger than 3 yrs old)

Seniors/Students
$25 (Please present ID at the door)
Tickets
*** SOLD OUT !!! ***
Online registration and PayPal payment method:
Please take note of the 4% handling fee for this service.
There are three ways to register for the banquet: 
OPTION 1:  Fill out a blank registration form by hand and mail in with your check
(there is no handling fee for this service).
Make your check payable to "API Banquet"
Mail your form and check to:
APIQWTC Banquet
17 Walter U Lum Place
San Francisco, CA 94108
OPTION 2:  Fill out a registration form online and mail your check
(there is a 4% handling fee for this service) to the address above.
*** Since the event is sold-out, this Option is closed!!!  ***

OPTION 3:  Fill out a registration form online and pay by PayPal
(there is a 4% handling fee for this service.)
*** Since the event is sold-out, this Option is closed!!!  ***

In the case of a needed refund please make your requests by April 9, 2012.
We will not be able to accommodate your request after this date.
Menu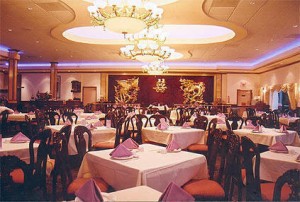 While we plan our menu to accommodate our diverse community,
our anticipated menu is subject to change.
(V)=Vegetarian
Appetizer Plate (V)
Snowpea/Bamboo Soup (V)

Honey Walnut Prawns

Yin-Yang Vegetables (V)
Salt & Pepper Crab
Tofu/Bok Choy/Mushrooms (V)
Peking Spareribs
Roast Chicken
Yang Chow Fried Rice (V)
Dessert
Beverages will available at the Cash Bar
Additional Information
We will make all efforts to accommodate your special request.
Partial or whole scholarships are available to volunteers upon request.
For Donations to APIQWTC Scholarship Fund please make you check payable to "API Scholarship". Thank you.