APIQWTC is co-sponsoring…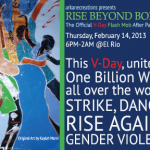 RISE BEYOND BORDERS at EL RIO!
Date: Thursday, February 14th, 2013
Where: El Rio 3158 Mission St. SF 94110
(415) 282-3325
When: 6pm – 2am
What: Rise Beyond Borders: The Official V-Day Flash Mob After Party in San Francisco.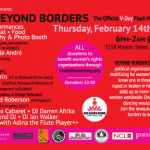 $3-$20 suggested donation. All proceeds benefit onebillionrising.org.
URL: http://www.onebillionrising.org/page/event/detail/startarising/wrq7
This V-Day, unite with One Billion Women all over the world to Strike, Dance and Rise against Gender Violence!!!
RISE BEYOND BORDERS is a coalition of political organizations and activists mobilizing for women's rights.
Did you know one in three women will be raped or beaten in her lifetime?
That adds up to more than one billion women worldwide.
One billion women dancing would be a revolution.
Join the revolution! Join onebillionrising.org!!!
Photography by Vashelle Andre, and a photo booth with paper, art supplies,
and Vagina Costumes to wear when you tell the world: "Why I'm RISING!"
MC Gina Gold of The Gina Gold Show
Performances by Kaylah Marin, #3 on Billboard Dance Charts
Vixen Noir's Unofficial Premiere Performance of her Debut Single, "Dangerous" w/Kailove!
Isis Starr, Goddess of Vintage Burlesque
Musical performance by The Voodoo Cabaret
Wataya Kyd Roberson "Who is Who in Poetry" 2012
Spoken word by Magick "Activist at Large"
DJ Darren Afrika, The Reverend DJ, DJ Ian Walker,
DJ Willow with Adina the Flute Player
and more!!!
Sponsored by: El Rio, One Billion Rising SF, Code Pink, NOW SF, Global exchange, NCLRight,
APIQWTC, QWOCMAP, Fabulosa, Mango, and SFDK.