What: THANKS ALL FOR A FANTASTIC BANQUET!! See you at an upcoming meetup or other event!!
Lunar New Year of the Horse APIQWTC Banquet
When: April 26, 2014 from 5-11pm
Where: Legendary Palace, 708 Franklin Street, Oakland
THANKS EVERYONE FOR A FANTASTIC BANQUET!!
In Community,
The Banquet Committee
When & Where
Saturday, April 26, 2014
5:00pm to 11:00pm
| Time | Event Schedule |
| --- | --- |
| 5:00pm – 6:00pm | Registration & Socializing (come early – open seating!) |
| 6:00pm – 7:00pm | Dinner is served |
| 7:00pm – 9:30pm | Entertainment & Raffle Drawing |
| 9:30pm – 11:00pm | Speed Dating & On-Site Dancing |
| After 11pm | ++ After-party at the White Horse Bar++ |
Come early – Open Seating
708 Franklin Street,
Oakland, CA [map]
(510) 663-9188
Wheelchair Accessible
Parking – Street Metered (Free after 6pm). Nearby Parking Garages. Free Evening Parking at Aki Parking, 420 8th Street, btw Broadway & Franklin (5-11pm w/validation)
Four blocks from BART 12th St./City Center Station
Sponsorship Levels
Sponsorship
We have a few sponsorship levels.
Be a Horse Supporter, Platinum, Gold, or Silver Sponsor! Gold and Platinum Sponsors will be recognized for your generous support in the banquet program under the "Thank You Sponsors" section. Of course, if you choose to be an anonymous sponsor, we would gladly honor your wish.
Level
Dollar Amount
HORSE Supporter
$450 (reserved table for 10 adults)
Platinum Sponsor
$100 (one dinner and acknowledgement)
Gold Sponsor
$75 (one dinner and acknowledgement)
Silver Sponsor
$100 (two dinners)
Individuals
$38 postmarked by 4/5;
$45 after 4/5
Seniors/Students
$25/person (Please present ID at the door)
Children
$15 (3-13 yrs old)FREE (younger than 3 yrs old)
Seniors/Students
$25 (Please present ID at the door)
Make Your Reservation
Online Reservations
Click or tap below to reserve seats online:
---
Mail-In Reservations
**NOTE: The due date has passed for mail-in check reservations, please order your tickets on-line. A limited number of tickets are also available at the door on a first-come, first-served basis.
Mailed reservation and payment must be postmarked by Saturday April 5th to hold your spot and ensure discount pricing. Space is limited, reservation is guaranteed by check only. Please make check payable to "API Banquet" and return this form with your reservation.

Fill out a blank registration form by hand and mail in with your check (there is no handling fee for this service).
Click here to download PDF and fill out the RSVP form
Make your check payable to "API Banquet"
Mail your form and check to: APIQWTC, 630 Thomas L Berkeley Way #507, Oakland, CA 94612
---
In the case of a needed refund, please make your requests by April 5, 2014.
We will not be able to accommodate your request after this date.

Phoenix Award Honoree
Phoenix Award Honoree
Koko Lin
Congratulations to Koko Lin, our 2014 Phoenix Award Honoree! We honor and thank Koko for her many years of selfless work on behalf of Asian & Pacific Islander LGBTQ communities.
Koko was born in Taiwan and came to the United States when she was 16. As the oldest of 6 children, she was responsible for her siblings throughout their school years. She graduated from UC Berkeley with a Bachelors in computer science and began her career as a software engineer.
Along the way, Koko became progressively more and more involved with the API and LGBT community, first volunteering with API-PFLAG, API Wellness Center, Asian Pacific Sisters (APS), Self Help for the Elderly and the Asian Women's Shelter as well as APLBN (Asian Pacific Lesbian Bisexual Network).
In 1993, she co-founded MAPLBN (Mandarin speaking Asian Pacific Lesbian Bisexual Network) which created the "Beloved Daughter" booklet, a collection of letters from parents about their gay children. Translated into both Chinese and English, Koko helped to distribute it to China, Taiwan, and Southeast Asia, as well as to many individuals, libraries, schools and Chinese communities in the U.S.
She helped plan the APLBN conference at UCLA (1998), the first Tongzhi Conference in San Francisco (2000), and APIQWTC's conference in Oakland. She also co-founded the very first Asian co-gender LGBTQ dance club "Jaded" (1995-1998).
Koko was one of the co-founders of APIQWTC in 1998, but it all began when she helped to organize the annual APLBN (now APIQWTC) annual banquet more than 20 years ago. Other events include organizing the gay contingent for the Chinese New Year parade, Rice Bowl, summer BBQ, and API contingent for the Pride Parade and Dyke March. Later, she became a board member of Purple Moon and API Family Pride.
Koko is married to Margot Yapp (first in 2002, then again in 2004 and 2008) and they live in Oakland. Their daughter, Megan, was born in 2004, and they added a pet hamster, Pancake, in 2013. These changes in her life influenced her evolution in her politics and activism. She joined the board of Our Family Coalition (2006-2013), whose mission can be summed up as "make families stronger, make schools inclusive, make tomorrow better."
She continues to be active with APIQWTC, where she LOVES helping with the annual banquet. Every October, she also participates in "Swim-a-Mile for Women with Cancer", that is sponsored by the Women's Cancer Resource Center in Oakland. She is also a co-founder of the Red Envelope Giving Circle (REGC), which is committed to creating positive social change through philanthropic support to Asian and Pacific Islander LGBTQ-led projects that improve the lives of API LGBTQ people and communities.
She has received multiple awards for her community service; the George Choy award from GAPA in 1999, the Luminary award from the Purple Moon Dance Project in 2012, and the East Bay Stonewall Democratic Club Trailblazer award in 2013.
When she has any leisure time, Koko loves to oil paint, play tennis and golf, and continue to build a better community for LGBT people. Occasionally, she even develops software for her clients.
APIQWTC Phoenix Award
APIQWTC was formed in 1999 and as a legacy from previous APIQW organizations has continued celebrating the lunar new year with an annual banquet tradition. In 2012 we celebrate our communities' 25th Banquet year. Proceeds of the Banquet aid projects that support and promote the visibility of the API LBTQ community. Your support also funds other APIQWTC activities, such as the summer BBQ, Pride, and other events.
Every year, APIQWTC presents the Phoenix Award to someone for their lifetime achievements and contributions to the API queer and transgender community. It's our way of recognizing our many members who have done so much for our community in countless ways.
Come celebrate with us at our 2014 Spring Lunar New Year Banquet! An awesome lineup of entertainment and community spirit awaits you!
Performance Lineup
Emcees
Irene Tu
Stand-up comic, Writer and Performer from Chicago
Irene Tu is a stand-up comic, writer, and performer from Chicago, now living in the San Francisco Bay Area. Some have described her as "sarcastic," but she just tells it like it is. Irene has performed in SF Sketchfest, Limestone Comedy Festival, She-Devil Comedy Festival, Chicago Women's Funny Festival, and was a finalist in Rooftop Comedy's National College Comedy Competition. You can see her perform all around the Bay Area. Follow her on twitter @irenetu or visit irenetu.com for updates.
Therese Garcia
Comedian, Actor, Ping-Pong Player
T, born in San Francisco, and raised by her first generation Filipino, very Catholic parents, thought she might be a nun one day or maybe a saint or something. She never thought she'd end up an actor.
She got a taste of stage life in her stand up comedy duo The Gay/Asian Straight/Causasian Alliance — sadly, that went nowhere. She continued to cut her artistic teeth singing in the now defunct Oakland Family Fight Singers. But all the while, she longed to "make them laugh".
Along come Bay Area comedians, Kelly Anneken and Isa Hopkins — asking her to join the East Bay's premiere all-female comedy sketch troupe Femikaze, which has since been featured in SF Sketchfest in 2013 and 2014. She's starred in/co-wrote/co-directed an incomplete though often dreamt of web series "Sam & Billie Date", been seen by the internet masses in a trailer for indie runaway hit "Cemetery Highway", and has been recognized by myriad film festivals for the short "The Fiction of the Fix". Most recently, you can see her face in several web series, including "Dyke Central" and "Throw Like a Girl".
Opening Act
Comrade Lover
Comrade Lover is a social justice loving, mostly QTPOC lion slam dance troupe. Leading up to and during the Cultural Revolution in China, people were encouraged to use the term comrade in place of traditional terms. One of our members' mom recalled that couples were encouraged to call each other comrade lover. Given that queers have claimed comrade – tongzhi- to refer to themselves, we thought Comrade Lover was the perfect name for our social justice loving lion (slam) dance troupe.
We are always open to new members! Our goal has been to train enough people that we could show up at protests, demonstrations, and other events with little notice (it's mostly an improvisational art). Lineup changes from performance to performance. Listed here are regular troupe members:
| | | |
| --- | --- | --- |
| Dorothy Wang | Jen-Mei Wu | Margaret Hitchcock |
| Elokin | Kasi Chakravartula | Spike Lee |
| Handle Kung | Leslie Mah | Tina Gordon |
| | Inbal Rubin | |
Entertainers
K-Kings
The K-Kings (가요킹스) are a newly formed group, specializing in K-Pop Dance and Drag King Swag. The group has debut with three members consisting of: Jason Da Kine Okama aka Jason (제이슨), A-Town (에이터은) and T-WINNER (터워너). They each have varying experience in the performing arts. Jason has been performing for 10+ as a drag king. A-Town is a black belt in karate who also practices K-Pop choreography on the side. T-WINNER is competitive ballroom dancer of 5+ years who also performs in drag for showcases. Jason and T-WINNER have performed together in the past with the NSYNC number (Bye, Bye, Bye) and are excited to be performing with a new member. They are ready to delight fans and excite new ones!
Alice & Mandy
Alice & Mandy is a Ukelele and Guitar Dynamic Duo. First-time Collaboration!

Alice Liu (left)
I am a queer hapa born in SF 37 years ago; my brother and I are among the first US-born of our Chinese family. Most of my family is very traditional and conservative. I am a nurse and work in low income/homeless immigrant community clinics. I am extremely embarrassed that my Spanish is way better than my Mandarin, but I can fold dumplings at almost the speed of light. 我喜歡吃臭豆腐.

Mandy Hu (right)
Again? Wasn't I just here last year, playing country music and enjoying Dungeness
crab with you all? Lovely to see you again. To whoever outbid me on the nunchuk
lessons last year: bahh!! To everyone else: come say hi and share your thoughts
about country music, Dungeness crab, silent auctions or whatever you please!
On-Site DJ at Legendary Palace
DJ sakura
DJ sakura will be mixing in-house at Legendary Palace.

Based out of Oakland, DJ sakura has always had a deep affinity for music. With a background playing classical piano, she experimented with turntables and has
not looked back. After listening to techno for the first time, she instantly fell in love with electronic music. sakura's sound is fresh and never without a deep bassline.
After Party
White Horse Bar
Club Telegenic with DJ Artitude.
Please navigate to the After Party tab for more information.
Menu
Menu
(Anticipated menu – subject to change)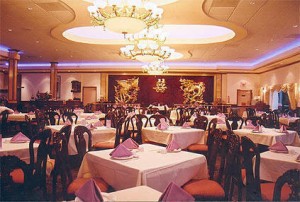 (V)=Vegetarian
Appetizer Plate (V)
Snowpea/Bamboo Soup (V)

Honey Walnut Prawns

Yin-Yang Vegetables (V)
Salt & Pepper Crab
Tofu/Bok Choy/Mushrooms (V)
Peking Spareribs
Roast Chicken
Yang Chow Fried Rice (V)
Dessert
Beverages will available at the Cash Bar
After Party
After Party
White Horse Bar
Club Telegenic with DJ Artitude
Party begins right after the banquet!
Let's take over the joint and party down!
The White Horse Bar is located at:
6551 Telegraph Avenue (by 65th, near Alcatraz)
Oakland, CA 94609
(510) 652-3820
ADA-Accessible.
**Please click on map image below for direction to the After Party:
Scholarship & Awardees
APIQWTC Scholarship
A portion of Banquet proceeds goes to the APIQWTC Scholarship fund to support queer API women and transgender people in their pursuit of technical/professional training or higher education. The scholarship aims to recognize active community members and encourage future leaders. The scholarship fund is strictly segregated from the APIQWTC general operating fund. For more info, contact Amy Sueyoshi at .
Donate to the scholarship fund with your reservations today! For Donations to APIQWTC Scholarship Fund, go here now and donate online, or please make you check payable to "API Scholarship". Thank you.
---
Congratulations to our 2014 APIQWTC scholarship awardees, Landyn Pan and Tõ Như Đào!
Landyn Pan is a high school senior, artist, and activist based in Seattle, Washington. As a sophomore at Bothell High School he restarted the Gay Straight Alliance club and served as president for two years, running support groups, discussing queer politics, screening LGBTQ videos, and building infrastructure for the organization. Currently, as the Director of Resources and Activism for his GSA, he leads campaigns and projects to educate students, teachers, and administrators, and visits surrounding high schools to present on various trans* topics. Landyn is also the Development Director and Graphic Designer for Trans Student Equality Resources, a youth-led nonprofit organization that works to end trans discrimination in education. Through TSER he has designed dozens of infographics on topics such as trans* terminology, school safety, and visibility. These images have appeared on prominent blogs sponsored by organizations such as Afterellen.com, Trevor Project, Buzzfeed and Transgender Law Center. Landyn immigrated to the U.S. at the age of six with no English ability from Nanning, China with his single mother and brother. He has overcome tremendous hurdles as trans* and Asian, and has dedicated himself to taking on leadership positions to create change for marginalized communities. In the fall, he plans to attend Chapman University or University of Washington, Seattle and hopes to forge a career using media to continue his anti-oppression work in the mainstream. His infographics can be viewed at www.transstudent.org/graphics.
Tõ Như Đào is pursuing a M.S.W. at UC Berkeley, with a concentration on Community Mental Health. There, they work as a Research Assistant for an LGBTQ Youth polyvictimization project. They are also President of their School's Graduate Assembly, a leading member of the Queer and Trans* Advocacy Project, and a member of the Chancellor's Advisory Committee on LGBTQ Communities. Alongside their UC Berkeley work, they provide mentorship with Queer Youth Arts and collaborate with community members on a short film visibilizing the daily experiences of a Vietnamese-American trans*masculine teenager. As a UC Davis undergraduate, Như organized with queer, trans* and culturally-specific student organizations such as API Queers and Aggies of Color. After graduating, they worked at UCSF on a bilingual, health disparities research project, as well as a Community Health Intern with Asian Health Service Youth Program. Their work and activism has been featured in Ms. Magazine and independent films. Như has received the national Undergraduate Social Action Award from Sociologists for Women in Society and the UC Davis Chancellor's Student Achievement Award for Diversity and Community. This summer, they will be returning to UCSF to join another project. As a 1st-generation Vietnamese-American graduate, Như pushes for multi-level transformation that not only centralizes the lives of marginalized peoples, but is led by those closest to struggle. They have deep faith in resiliency and the infinite possibilities of collective power.
* * * * * * * * * * * * *
SPECIAL THANKS to all supporters of the Silent Auction and Raffle and other APIQWTC-sponsored events, all of which support the scholarship program, as well as to major scholarship donor Kriya Chantalat.

Donate Products & Services
Donate Products or Services as Prizes
Support our Banquet Silent Auction! This is a fun part of the event and we thank our community donors for making it possible.
Join our generous in-kind donors with a tax-deductible donation of your item, service, or other contribution to help make our auction a success!
Contact or if you are interesting in helping out with the auction.
AUCTION DONORS (list will be updated on an ongoing basis)
WOLFE VIDEO *
SPORTS BASEMENT *
FRAMELINE *
PIEDMONT SPRINGS *
GOOD VIBRATIONS *
BERKELEY REPERTORY THEATRE *
HARVEY'S RESTAURANT *
JAPANESE MONSTER DESIGN (Grammy Nominee CDs) *
COIFFURE PET GROOMING *
Margaret Cho (autographed DVDs) *
RAINBOW GROCERY *
THE BECK LAW GROUP *
MICHAEL MERRILL DESIGN STUDIO *
VIP GROOMING *
Lancy Woo *
BI-RITE MARKET *
Jackie Huang *
Oakland Councilmember Rebecca Kaplan (Bruno Mars concert tickets, suite level, May 28) *
Jane (1 night stay at Hotel Nikko) *
Amie Kim Reiki – Gift Cert. For GRASSROOTS REIKI *
49ers Football (2012 NFC Championship Football) *
Roke Noir *
Banteay Srei's Nkauj Iba *

For general Banquet info, email .
Event volunteers are welcome! If you're interested in volunteering, send an email to with subject "API Banquet".